GUESS WHAT FOLKS?!
I am a fucking sheep. Baaaaaah.
Also? I will do whatever Aunt Becky asks of me. She offering up something or another on her blog as a prize if we fill out this questionaire thing but the truth is that I just love her so stinkin' much that if she asked me to publish a photo of my ass hole on my blog I'd do it.
So here's some effing questions and my effing answers.
1) Do you like sprinkles on your ice cream?
YES. Big fat chocolate ones.
2) If you had to choose one word to banish from the English language, what would it be and why?
"Tender."
3) If you were a flavor, what would it be?
Something savory. Like pepper bacon.
4) What's the most pointless annoying chore you can think of that you do on a daily/weekly basis?
Fucking laundry. FUCKITY FUCK FUCK.
5) Of all the nicknames I've ever had in my life, Aunt Becky is the most widely known and probably my favorite. What's your favorite nickname? (for yourself)
Lolly. It's what most of my family members call me.
6) You're stuck on a desert island with the collective works of 5 (and only five) musical artists for the rest of your life. Who are they?
Metallica, Deftones, Black Sabbath, Opeth, Tool.
7) Everything is better with bacon. True or false?
YES.
8 ) If I could go back in time and tell Young Aunt Becky one thing, it would be that out of chaos, order will emerge. Also: tutus go with everything. What would you tell young self?
It doesn't matter what others think of you, only what YOU think of you.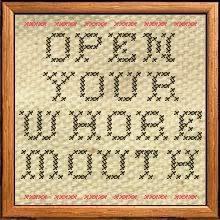 Head on over to Mommy Wants Vodka to participate!